NEW 2020 COLLECTION
Business redefined
A collection filled with modern elegance, smooth structures, and tailored perfection for everything you need this spring. Explore our latest release of high-quality, exclusive business shirts. These are some of our favorites from the collection, all guaranteed to make you feel and look like your absolute best self.

Make a lasting impression using bold, yet tasteful prints. Darker colors add a sleek and modern vibe to your business outfit. Our newcomer, Harlyn, does precisely that. With its intriguing print on a navy background, it's one of the must-haves this season. Style this gem underneath a blazer or full suit for a sharp look that surely will impress on your surroundings.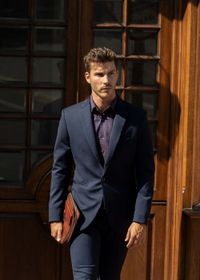 Enhance a clean, well-dressed look for the office with dark navy combined with classic brown shades. A checkered dress shirt is the ultimate business look for when you want to explore your options away from a clean white or light blue dress shirt. A bit more fun, adventurous, and bold without being too much. Wear it with a full-on navy suit and brown belt for a look that's everything you've been looking for.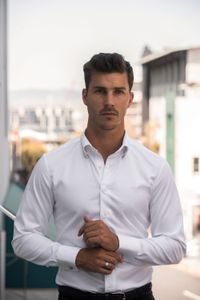 This one needs no further introduction. For an all-day wrinkle-free performance, our Non-Iron dress shirt Olympia has got you covered. Smooth to the touch and with endless styling possibilities, this gem will have you looking sharp and ready to go in no-time. Wear on its own together with a belt for a more dressed-down look or go all in and style with your favorite suit for an unbeatable appearance.

A real classic if you ask us. With its small window-pane pattern in dark navy, Wall Street is almost a necessity in every wardrobe out there. Whether you're about to present an important meeting or just looking to feel and look like your absolute best self - Wall Street has got you covered. Make it even more unique by adding a few design options, why not your initials in your favorite color?